Minnesota's nick-named the Land of 10,000 Lakes, but it runs on agriculture and people like Don Petersen, a National Farmers member and Hokah area cattle producer. Petersen produces quality livestock. "He's definitely got good cattle," Jason Storlie said about Petersen. Storlie works with Petersen on his cattle marketing through the Decorah Livestock Marketing Center, managed by Gary and Rhonda Bakken. "Everything's always clean and his animal husbandry practices are good," Storlie added. Petersen runs 85 cows in his cow-calf herd and grows corn and hay, feeding almost everything back into his herd.
Petersen said he used to sell his livestock through a sale barn. "They're different than they used to be," he said. "Now, you're paying yardage, commission and there's an awful lot of shrinkage when you're marketing live cattle that people don't think about. It seems like they get you coming and going.
"National Farmers marketed so much better, that I sell everything through National Farmers now," Petersen said. "Jason works really well for Garry and Rhonda Bakken. It just works so much better. Jason fits my livestock on a load for me, so the convenience is a big help."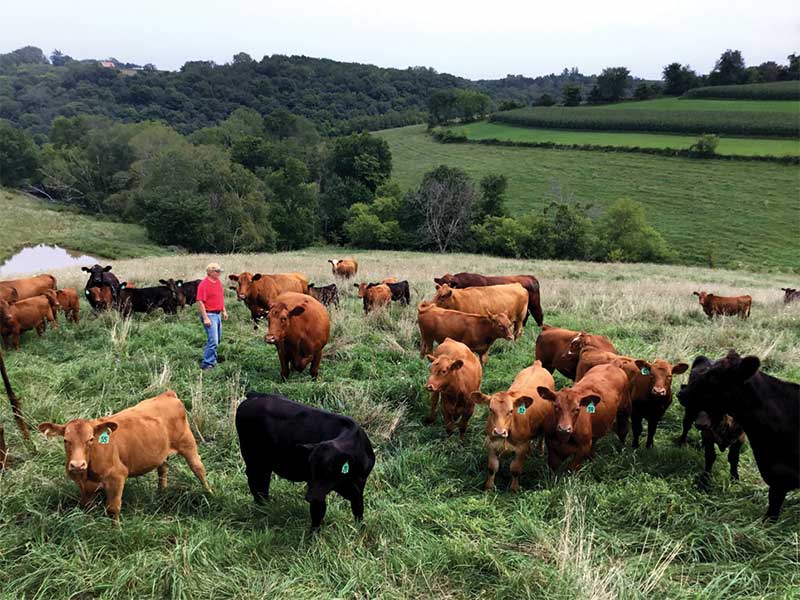 Still, Petersen's real first introduction to National Farmers and all its marketing programs started with his parents, John and Lucille Petersen, who managed the Caledonia, Minnesota Livestock Marketing Center among others. His parents are the reason Petersen looks to National Farmers for its marketing expertise, he said.
Petersen works with Kevin McCormick, also a National Farmers member, selling his steers to him. Both cattle producers are satisfied with their arrangement, which is 12 years long. "He's happy and I'm happy, and it has worked well for both of us for a long time" Petersen said. McCormick then markets all his cattle production through National Farmers. "Everything that goes off this farm, goes through National Farmers," Petersen said.
National Farmers provides DataTrack, a service that provides information to producers about how their livestock perform at the processor. "I like the data about carcass traits," Petersen said. He also keeps in touch with McCormick about how his carcass trait readouts look. Because of that, Petersen knows how all the cattle he raises perform and can cull accordingly.
Petersen gets bulls from Berns-Miners Farms near Postville, Iowa, using their Red Angus and Charolais genetics. He prefers that, because his experience has shown them to be more docile, the cows are good mothers, conception rates are better and carcass performance is exceptional, he said. "They finish out faster without pounding the corn into them," he added. Other than buying bulls, Petersen has a closed herd, and raises his own replacement heifers.
All calves are preconditioned and backgrounded for at least two to three months, and the feeder steers are marketed in January or February at 800 lbs. to 900 lbs. "I do all the vaccinations and processing myself, so they can hit the ground running when they are sold or go to the feedlot," Petersen said.
He also sorts calves from cows daily for several weeks before weaning and breaks them for bunk feeding, to ease the weaning process. "It's labor intensive, but most of the calves don't miss the cows when I close the gate for good when I wean them," Petersen said. Before marketing cattle he's going to cull, he feeds ground ear corn to get them in just the right place before selling them. The winter diet for his herd is based on corn silage.
Don's wife, Sandy, is a registered nurse at a Gundersen Health System clinic. They have three adult children and three grandchildren. Petersen also serves on the board of MiEnergy Cooperative as its treasurer, and on the board of Hokah Cooperative Oil Association as secretary. The energy industry is getting more involved in agricultural inputs, so he likes to bring influence in that arena, he said. Other benefits are clear, too, he said. "It gets you off the farm. Keeps your mind sharp and involved with different things," Petersen said.
Storlie enjoys working with Petersen, and respects him as a cattleman. "He's an easy-going, hard-working guy," he said.