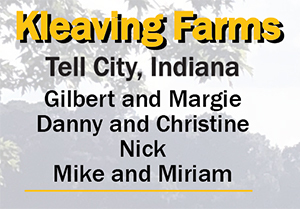 (pictured above Danny, Nick, Mike and Gilbert Kleaving)
Three sons, Danny, Nick and Mike Kleaving are spurring Kleaving Farms forward, with their parents, Gilbert and Margie.
The Tell City, Indiana setup involves livestock operations that are separate, a cooperative grain operation, National Farmers marketing and the blessing of all the farms lying within about three miles of one another.
Margie and Gilbert are thankful for the proximity of their family, and for the convenience of help nearby right when it's needed. "It doesn't always work that way, but it did for us, and we're grateful," Gilbert said.
Danny and Gilbert have a 30-head brood cow herd, Simmental-Angus cross. They graze them on a rotational basis, selling them through the Ireland, Indiana, National Farmers Marketing Center. Additionally, Danny runs a feeder to finish cattle operation, purchasing calves at 500 lbs. to 700 lbs. He finishes about 200 head annually to 1,300 lbs. to 1,400 lbs.
"During the pandemic, we saw a decrease in cattle futures and nearby cattle prices," Danny said. "We got in touch with Jeff Rose and we bought a cattle option then." Rose is program manager in the Livestock Division.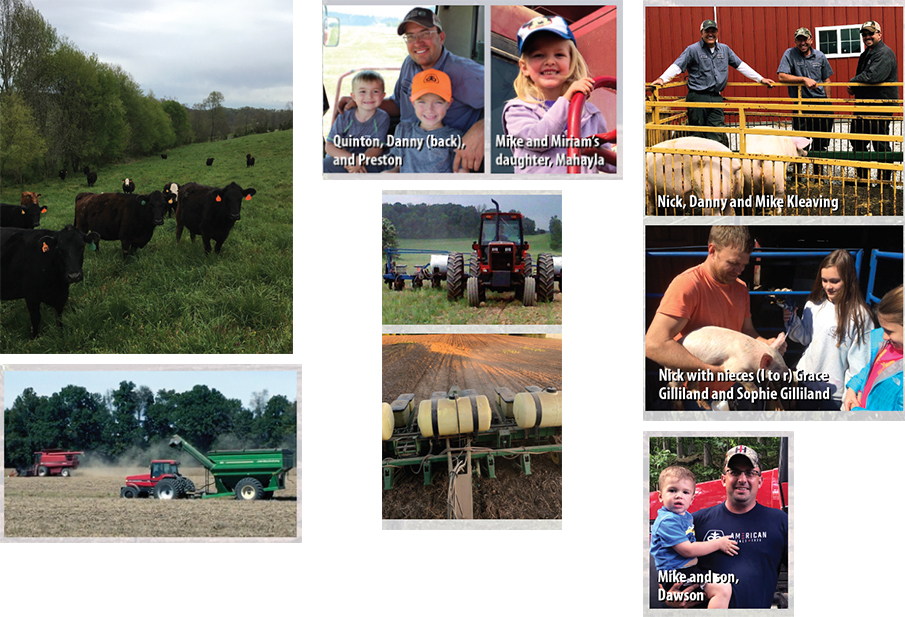 Nick said, "Basically, we put a ceiling in and it cheapened up the price of the put option by selling a call. It put a window in there, where you essentially guaranteed yourself a profit." "We buy [options] for insurance purposes," Danny said. "We try to cover our bottom line, basically." "Between, Danny, Dad and I, we have enough head to protect our herds with the use of options against the downward price movement," Mike said.
Rose said they're wise to invest in the security. "They produce quality livestock and we want them to profit, too." Danny also works with Forest Boling at the National Farmers Livestock Marketing Center, to purchase feeder cattle. "We normally get them between 500 to 700 pounds and we'll bucket feed up to 750 or so and then put them on full feed," Danny said. "We shoot for two and a half to three and a half pounds of gain a day."
Mike raises cattle with Gilbert, as well, in an 80-head herd of Angus and native breeds. He also emphasized the importance of National Farmers' Boling, who checks the herd once to twice a month to see what will be ready for market. "That way, we have a price, too," Mike said.
Crop Enterprise
"The Kleavings make for an exceptionally balanced team. Their ability to work cooperatively among the farms and family members is admirable," said Grain Marketing Plus Representative Matt Brandyberry. The family also grows non-GMO soybeans. In the last seven years, the premium per bushel has ranged from $1.65 to as low as $1.20. "If you can add, say $1.45 or $1.50 a bushel to several thousand bushels, that helps our bottom line quite a bit," Nick said. They grow mostly 4.0s for maturity.
The corn they've grown through the years has ranged in maturity span from 109-day to 120-day, and with a re-plant, 105-day corn. They also grow winter wheat to market, and to bale the straw for bedding. They fertilize with hog, cow and turkey manure. They see less leeching with manure versus commercial fertilizer, Danny said, and especially important in drought years, the increased organic matter helps retain moisture.
And crop insurance is key, which Mike understands from the perspective of being a farmer and a National Farmers Crop Insurance agent. "What I like to do is buy up to my cost of production on my crop insurance side. What I do not cover with crop insurance, I buy a put option to cover. If I buy 80 percent crop insurance, then I do 15 percent on put options, so it more or less makes me whole." Mike appreciates Brandyberry's help, as well. They are currently forward contracting some corn for the 2021 crop year to be sold in 2022 at $4.44 per bushel.
"Matt likes to keep in contact to keep the ball rolling. A smaller operator can act just like the big guys. My pie's just smaller. Matt's always keeping an eye on options so we can get our money back and make good decisions going forward." Gilbert agreed. "He is a really well-educated grain marketer," he said.