Convene In the QC Feb. 8-9
After last year's convention cancellation because of safety concerns about COVID-19, members are excited to attend our annual winter meeting next year. And Bettendorf, Iowa is the place for Convene '22, February 8-9. We have packed the normal meeting events into just two days, enabling you to get back to the farm sooner.
Everything is under one roof. That's what the Isle Casino Hotel in the Quad Cities offers for your stay at Convene '22. The casino's complex sits along the beautiful Mississippi River and proudly serves the Quad Cities area. Iowa's largest hotel, the Isle Casino property is conveniently located off the I-74 in downtown Bettendorf. And, it's just minutes away from I-80 and I-88 and only ten minutes away from the Quad City International Airport.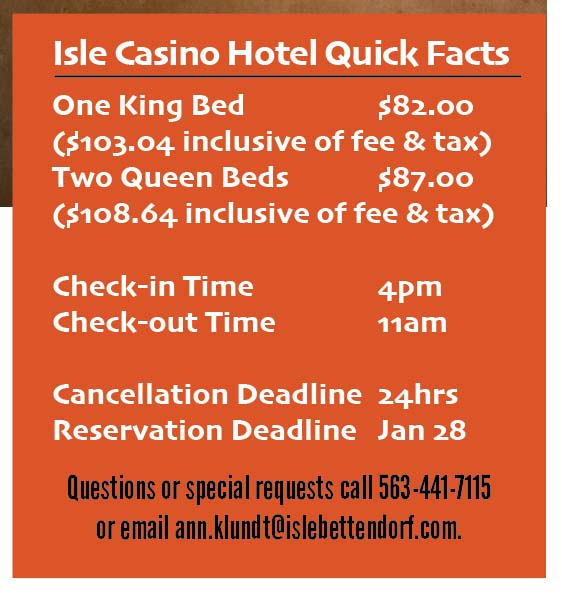 UPDATED HOTEL RESERVATIONS!
The Print Version Of the November/December National Farmers Magazine Contained Incorrect Telephone Hotel Reservation Instructions!
Below Are the Correct Calling Procedures.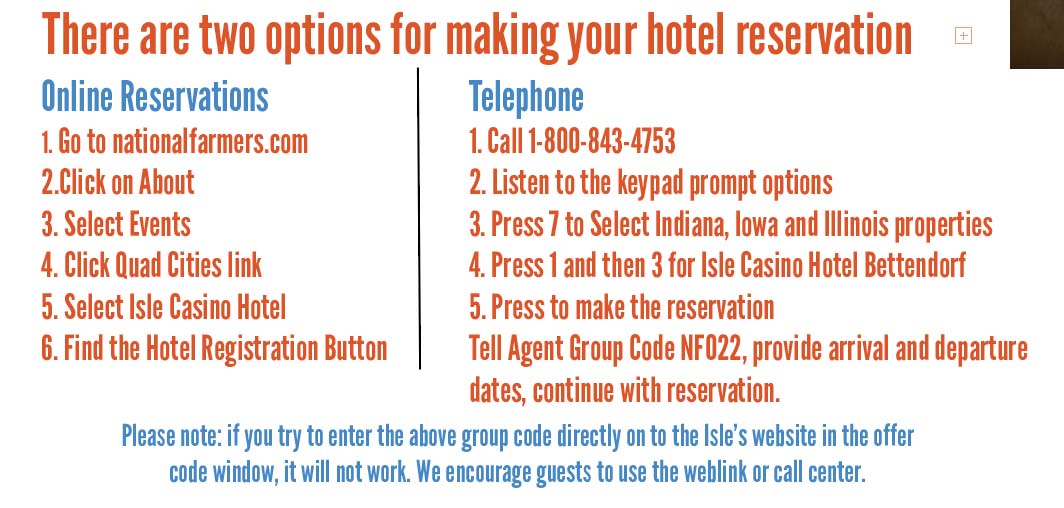 The casino offers nearly 1,000 slot machines and your favorite table games, including stadium gaming. Savor the freshest cuisine at Farmer's Pick Buffet® featuring locally-sourced, farm-to-table favorites and homemade dessert made each day.
Members at Convene
Committee meetings have moved this year to 7:30 a.m. on opening day, Tuesday, February 9 because of the two-day convention schedule. Then, at 9 a.m. members will be treated to a Welcome to Convention Reception. Convention begins at 10 a.m.
From conventional and organic milk and grain speakers, to cattle experts, you will learn about the latest in selling and markets. From our ag legislation presenters, you'll understand how policy impacts markets, too.
Mike Stranz, vice president of advocacy for National Farmers Union will speak about the latest legislation in the nation's capitol.
Andy Green is a senior adviser to Agriculture Secretary Tom Vilsack focusing on fair and competitive markets. Zach Mottl, owner of Atlas Tool and Die, is invited and will focus members' attention on his belief that smart trade and smart taxes are good for the U.S. economy.
Former Congressman Collin Peterson will update members about what major planks could be in the next farm bill..